Hurricane season is upon us again and it is crucial for everyone to prepare. Each storm is unique, but all bring the possibility of a range of impacts – such as power outages, road closures, flooding, supply issues, and other constraining results. While this is true, there are ways you and your loved ones can prepare to stay safe and healthy through the length of the storms.
Supplies for the Storm
Ensure you are equipped with an adequate stock of supplies, including water, toiletries, a full tank of gas, and enough to get you through several days.
Sign Up for Local Weather Reports and Resources
Make sure that you're enrolled in your local emergency alert system:
https://member.everbridge.net/index/892807736725574#/signup
FEMA Resources
Download FEMA apps for resources including text alerts, lists of shelters, and weather alerts: https://www.fema.gov/about/news-multimedia/mobile-products
Download Local Weather Apps
Action News Jax: Action News Jax Mobile and Smart TV Apps for News and Weather – Action News Jax
Register for Special Needs Medical Services
JaxReady – Special Medical Needs Registration
Know Your Evacuation Zone and Routes
With so much of Florida in the vicinity of large bodies of water, flooding is a likely outcome for many residents of Clay and Duval County. Fortunately, years of experience with large storms have allowed the state to build a safety plan in the event of a flash flood.
Before most major storms, a Flash Flood Warning will be issued by the National Weather Service or through local news stations. This can quickly turn into an evacuation order once the storm hits, as even if the main mass misses your area, the outer bands of rain can easily still cause flooding.
Use this Know Your Zone, Know Your Home | Florida Disaster website to find your Tropical Storm Zone if you are unsure of what Zone you fall under. As a rule, Zone A is considered the most vulnerable during a hurricane and will be evacuated first.
If you are in Zone A, you should prepare to be evacuated and have everything in place to leave at a moment's notice. Prepack important documentation, medical records, medication, essential items and have a plan for your family, including pets. Not all shelters will allow you to bring them.
To find evacuation routes on the same map, please select the Layers Dropdown to select Evacuation Routes.
Public Emergency Shelters will open and become listed as the storm approaches: Check to find those closest to you. Also, make sure the shelter you are going to takes any furry family members as well!
How You Can Prepare if Sheltering in Place
Refill any Medication/Care Supplies: Your doctor may be able to issue an early refill of any daily medication. Contact them now to ensure you don't run out. Ensure you have anything needed to safely administer medications as well as personal hygiene products.
Buy Non-Perishable Food: Canned and dried goods are a steady and easy-to-store food source during storms when leaving your home may be dangerous. Make sure to buy a variety of products to ensure a healthy diet. Also, stock up on food products for your pets.
Food Safety: Clear out the fridge and freezer beforehand to only have essentials. Try to open both as little as possible in case of power surges and outages to keep insulation. Place a frozen glass of water in your freezer with a quarter on top of the ice. This can be used to determine if power was lost long enough to defrost freezer contents making it unsafe to consume. If the quarter has sunk halfway through the glass, use your best judgment. If the quarter is at the bottom, throw away freezer contents as the freezer was off for a long period.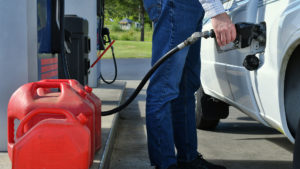 Top Off Generator/Car Gasoline: Gas is one of the first things to run out during a storm, so make sure you have enough gas to run your generator while sheltering in place and enough to drive to a safe location should a mandatory evacuation be enacted in your area.
Buy Propane: Many times, storms of any level are accompanied by widespread and long-lasting power outages. Ensure that you have charcoal or propane to run any camper stoves, grills, etc. if outages last longer than a few days.
Electronics: Buy external battery packs, car port chargers, and batteries to prepare for power outages. If possible, buy a battery-powered radio in case of cell towers fail.
Lights: Keep at least two flash lights in the house with new batteries. Candles or solar power lights are also good to have on hand.
Ice: Once the power goes out, ensure that you have several coolers of ice in which you can store some of your perishable goods, including medication that requires refrigeration. If ice bags are sold out, begin filling gallon zip lock bags with water and freezing them flat in your freezer. These can also be melted for extra water if needed.
Water: Prefill your bathtub, containers, reusable bottles, etc. with water. You will need this for bathing, flushing lavatories, cooking, and drinking. Keep this in mind when preparing. Frozen bags of water are useful in that once they melt, they are viable water.
Stay Cool: In the days after the hurricane, if you or a loved one is sensitive to high temperatures or high humidity, have something in place to help you stay cool and safe. No power means no air conditioning for long periods of time. Please be prepared for this and stay hydrated and cool as you can.